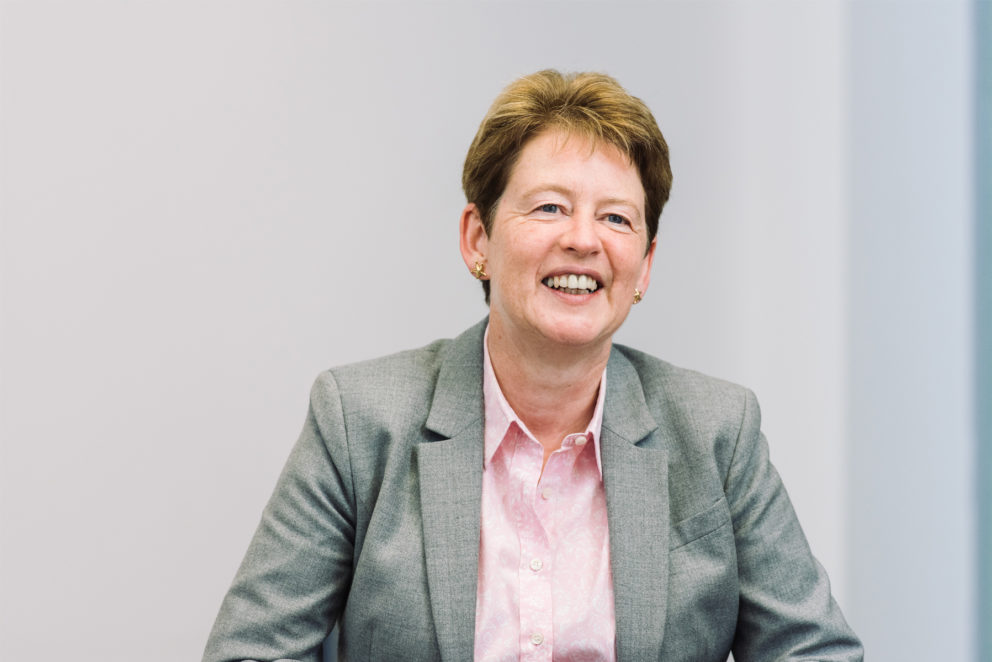 Pat has specialised in EU law and competition law since the 1980s, handling landmark cases at EU and national level and helping clients from all over the world with their competition law needs.
Recognised as a leading adviser on the legal and policy issues that come up when competition law and intellectual property law meet, many of Pat's clients are in technology rich sectors.
Pat works with clients on transactions and complex agreements (including settlement, R&D, licensing and joint venture agreements) in all sectors, with a focus on high tech and pharma/life sciences. Pat also has substantial experience of advising on competition law in arbitrations, as well as before the competition authorities in Brussels and London and in Court proceedings at national and EU level.
Pat advises regularly on the competition law responsibilities of dominant companies – particularly where IP is concerned. She also works alongside others from the team to support clients in their compliance efforts and to assist them in dealing with investigations by the competition authorities, whether through responding to requests for information or dealing with 'dawn raids' and their aftermath.
Pat was appointed Deputy High Court Judge in the Chancery Division of the High Court of England and Wales in September 2018. The appointment is not full-time, allowing Pat to continue working with and advising clients.
Pat is a member of the Competition Law Association; the UK Association of European Lawyers; and the Competition Section of the Law Society. She is on the editorial board of both the Journal of Intellectual Property Law and Practice and Competition Law Insight. Pat lectures and writes widely on topical issues. She also teaches the competition law module on the University of Oxford Postgraduate Diploma in Intellectual Property Law and Practice course.
Credentials
MA Law, University of Cambridge
Qualified 1986
Admitted in Republic of Ireland (non-practising)
Advocaat bij de Balie te Brussel
Partner 1996 – 2021
Managing Partner 2004 – 2011
Senior Partner 2018 – 2020
Senior Counsel 2021
Track UK SEP/FRAND judgments using our free online database
What others say
"A cool, calm and commercially minded adviser who is committed to long-term relationships with her clients." Chambers and Partners 2023
"Pat is a hugely talented and experienced competition lawyer who provides excellent, thoughtful and commercial advice." Chambers and Partners 2023
"Pat Treacy is active across an impressively broad array of competition law, advising clients on merger clearance and distribution models, as well as representing clients in defence of abuse of dominance allegations." Chambers and Partners 2022
"Pat Treacy remains an exceptional practitioner: her in-depth experience, up to date knowledge and friendly and available manner, she is amongst the very best competition lawyers out there." Legal 500 2022
"With her in-depth experience, up-to-date knowledge and friendly and available manner, [Pat Treacy] is amongst the very best competition lawyers out there." Legal 500 2022
"Pat is the go-to lawyer in Europe for complex FRAND matters and cases at the intersection of competition law and IP." Legal 500 2022
"Pat Treacy is the go to lawyer in Europe for complex FRAND matters and cases at the intersection of competition law and IP and technology. As a testament to her wide market recognition, she has recently been appointed Deputy High Court Judge and will serve in the Chancery Division of the High Court of England and Wales for six years." Legal 500 2022
"Pat Treacy and Sophie Lawrance are the lawyers to go to when IP intersects with competition law." MIP IP Stars 2022
"She [Pat Treacy] makes competition law seem black and white through her clear and practical advice." Chambers and Partners Global 2021
"She [Pat Treacy] is a very calm and canny tactician." Chambers and Partners Global 2021
Clients say that "it is always a great pleasure to work with her [Pat Treacy], as she can quickly grasp topics and is able to provide very clear responses." Chambers and Partners 2021
"She [Pat Treacy] is active across an impressively broad array of competition law." Chambers and Partners 2021
Pat Treacy is an "extremely knowledgeable lawyer providing a broad perspective". Chambers and Partners 2021
"Pat Treacy shows an impeccable judgment and is exceptionally clever. She knows all there is to know about the interaction between IP and competition law." Legal 500 2021
"Pat Treacy is an astute tactician in litigation, with excellent strategic thinking. She is also accessible and great under pressure" Legal 500 2021
"Her [Pat Treacy] experience as a Deputy High Court Judge gives her a particular edge in understanding how a court will approach a case." Legal 500 2021
"Pat Treacy is a star for high tech competition cases and, in general, all cases at the interface between IP and antritrust. She is highly regarded and – in my experience – unanimously seen as one of the leading figures in Europe in this field." Legal 500 2021
"She [Pat Treacy] makes competition law seem black and white through her clear and practical advice." Chambers and Partners 2020
Pat Treacy "is a very calm and canny tactician" Chambers and Partners 2020
Pat Treacy is "a pleasure to work with." Legal 500 2020
"Pat Treacy and Sophie Lawrence are both excellent and strong at handling IP-related matters crossing over with competition law; together they make an outstanding team" Legal 500 2020
"Pat Treacy is considered a leader in the field and a terrific lawyer who is savvy, experienced and practical" Who's Who Legal 2020
Pat Treacy assists clients with both contentious and non-contentious competition law matters. She represents defendants in abuse of dominance cases and market investigations. Treacy also acts for life sciences clients on the competition law aspects of patent cases. She "provides highly bespoke advice in a measured and digestible way and is a pleasure to deal with." Chambers and Partners 2019
Pat Treacy at Bristows is "amazingly good" applaud peers who consider her "clearly one of the leading practitioners" in the competition market. According to one source, she is "one of the go-to competition counsel in Europe for IP and innovation-related matters". Who's Who Legal 2019
"Practice head Pat Treacy is recommended as 'the go-to competition counsel in Europe for IP innovation related matters, delivering outstanding work'." Legal 500 2019
Pat Treacy advises clients from the TMT and life sciences sectors on the interface between competition law and IP. Commentators describe her as a "strategic thinker who is very business like, gets straight to the point and provides clients with options." She acted for Cousins Material House on a claim of abuse of dominance brought against Swatch. Chambers and Partners 2018
Recommended For
Competition Law (senior statespeople)
Competition Law: Litigation (senior statespeople)
Technology, Media and Telecoms
Competition Law: Litigation
Competition Litigation (leading individual)
Competition/ European Law: Non-contentious
Competition and Antitrust: Leading practitioner
Pharmaceuticals and Biotechnology
Competition Team of the Year
Related Articles