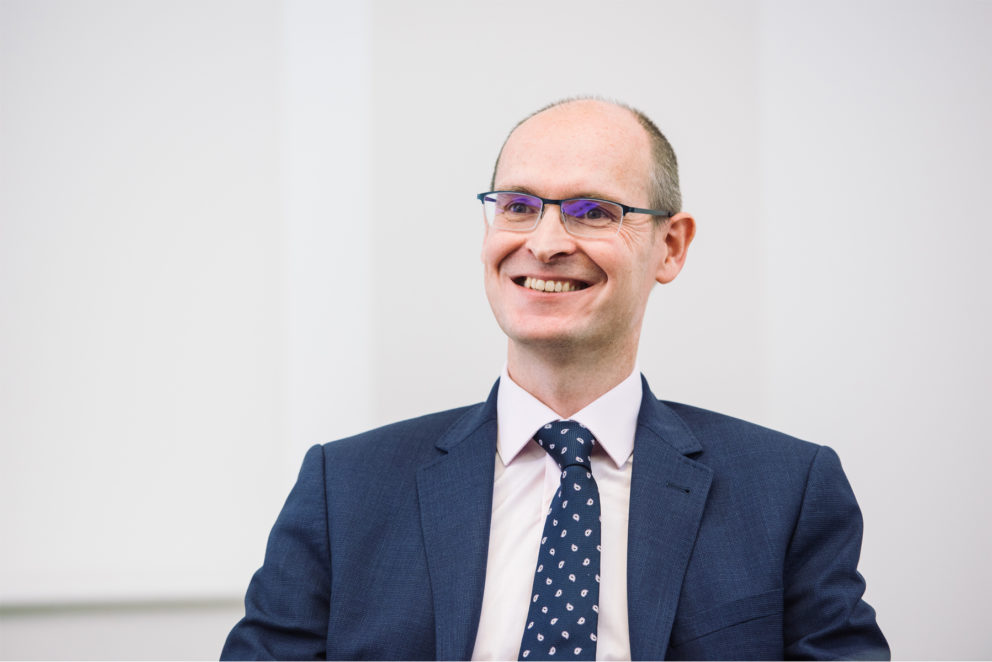 Robert is joint head of the patent litigation department. With a PhD in molecular genetics and 20+ years of litigation experience, he is particularly active for clients within the life sciences sector.
Many of the patent and SPC cases Robert has managed in recent years have required the coordination of parallel proceedings in the UK, EPO and other jurisdictions within Europe and elsewhere in the world. He therefore has in-depth knowledge of European litigation and, alongside appearing for clients in the High Court and Court of Appeal, has attended preliminary injunction and main action proceedings in multiple countries within Europe and overseen inspections of pharmaceutical manufacturing processes in India and Japan. Alongside the assessment of validity and infringement issues, his recent cases have included a damages enquiry, a reference to the Court of Justice of the European Union and the availability of Arrow declaratory relief.
Robert regularly advises clients on the Unitary Patent and the Unified Patent Court and, in more recent times, on the impact of Brexit.
He also advises on other IP rights and is one of a small number of lawyers who have acted in matters concerning plant variety rights. In addition to his litigation experience, Robert assists clients with freedom to operate opinions and due diligence on the intellectual property aspects of commercial transactions.
Robert is one of the founding editors of Bristows' Biotech Review publication.
Credentials
BSc Biological Sciences, University of Leicester
PhD Molecular Genetics, University of Leicester
Diploma in Intellectual Property Law and Practice, University of Bristol
Qualified 2002
Partner 2011
What others say
"Rob is smart, and clients really like working with him." Chambers and Partners 2024
"Rob Burrows is excellent. He has a really good technical understanding of matters. He is popular with clients and gives good commercial advice." Chambers and Partners 2024
"Robert Burrows utilises his knowledge of molecular biology to advise clients on patent validity challenges." Legal 500 2024
"Robert Burrows maintains an impressive life sciences practice spanning multiple jurisdictions, with significant experience handling disputes before the High Court and Unified Patent Court." Who's Who Legal 2023
"Highly experienced in coordinating cross-jurisdictional patent litigation, Robert Burrows is as organised and legally astute as he is technically confident. A background in genetics means he can speak the same language as his life science clientele." IAM Patent 1000 2023
"Rob Burrows is a respected patent litigator with an impressive record of leading cases for leading biotechnology and pharmaceutical companies. He is a noted expert in the field of plant varieties." Chambers and Partners 2023
"Rob Burrows represents market-leading corporations in patent litigation relating to blockbuster drugs and medical devices. He is also an authority in the field of plant varieties." Chambers and Partners 2023
"He's strategic, pragmatic and commercial in his approach in the interest of getting a good result." Chambers and Partners 2023
Robert "handles cases in such a way that clients know everything is taken care of." Chambers and Partners 2023
"Rob Burrows – Excellent litigator, technically brilliant." Legal 500 2023
"Rob really gets involved on the technical aspects, he is an expert on the scientific side." Chambers and Partners 2022
"Rob Burrows is thoughtful, clearly very expert and sensitive to the concerns of his clients. He is good at calibrating his advice and approach accordingly." Chambers and Partners 2022
"Rob Burrows: bright, sensible, charming." Legal 500 2022
Rob Burrows "puts his PhD in molecular genetics to use in multi-jurisdictional patent and SPC disputes." IAM Patent 1000 2022
"He [Robert Burrows] is extremely strong on the technical aspects of patent disputes." Chambers and Partners 2021
"He [Robert Burrows] is a noted expert in the field of plant varieties." Chambers and Partners 2021
"A respected patent litigator with an impressive record leading cases for leading biotechnology and pharmaceuticals companies." Chambers and Partners 2021
"Robert Burrows is an authority on the niche specialism of plant varieties." Legal 500 2021
Robert has "mastered the strategic aspects of UK and multi-jurisdictional patent disputes." IAM Patent 1000 2021
"Particularly adept at the science." IAM Patent 1000 2021
Robert is "a skilled international coordinator with deep knowledge of European litigation." IAM Patent 1000 2020
Robert has "a prophetic perspective on issues pertaining to the UPC" IAM Patent 1000 2020
Robert has a "calm, thoughtful, knowledgeable and thorough approach" Who's Who Legal Patents 2020
"Robert Burrows earns considerable approval thanks to his vast experience" Who's Who Legal Patents 2020
"He [Robert Burrows] is very good at co-ordinating and arranging pan-European, multi-client litigation." Chambers and Partners 2020
Robert is a "fantastic and very thoughtful lawyer who gets involved and understands everything." Chambers and Partners 2020
Robert Burrow is "a noted expert in the field of plant varieties." Chambers and Partners 2020
"Rob Burrows is a respected patent litigator with an impressive record leading cases for leading biotechnology and pharmaceutical companies." Chambers and Partners 2020
"Rob Burrows is one of the most knowledgeable solicitors in the pharma/biotech space. He explains difficult concepts so well to clients and is easy to work with." Legal 500 2020
"Robert Burrows is 'one of the most knowledgeable solicitors in the pharma/biotech space'." Legal 500 2020
"The combination of being an able scientist and an effective litigator is rare even in IP, and he is one of the few who bring these skills together effectively" Chambers and Partners 2019
"Robert Burrows really impresses thanks to "superb organisational and communication abilities". One impressed source also notes: "His intelligence and good humour helped the team to cope with any problem with ease." Who's Who Legal 2018
Recommended For
Life Sciences: IP/Patent Litigation
Life Sciences and Healthcare (next generation partner)
Life Sciences: Patent Litigation
Life Sciences: IP/Patent Litigation
Intellectual Property: Patent Litigation
Life Sciences and Healthcare (next generation partner)
Intellectual Property: Patents (contentious and non-contentious)
Life Sciences: Patent Litigation
Life Sciences: Patent Litigation
Expert Guides – Life Sciences: mentioned in their IP section
Related Articles