This week the Advertising Standards Agency (ASA), the UK's advertising regulator, upheld yet another complaint against a social media influencer.
On this occasion the slack celeb was Jemma Lucy, who has previously graced our television screens in highbrow programming such as Ex on the Beach and Celebrity Big Brother. Ms. Lucy's TV appearances have helped her to acquire 642,000 followers on Instagram.
On May 5 2019, Jemma posted the following on Instagram: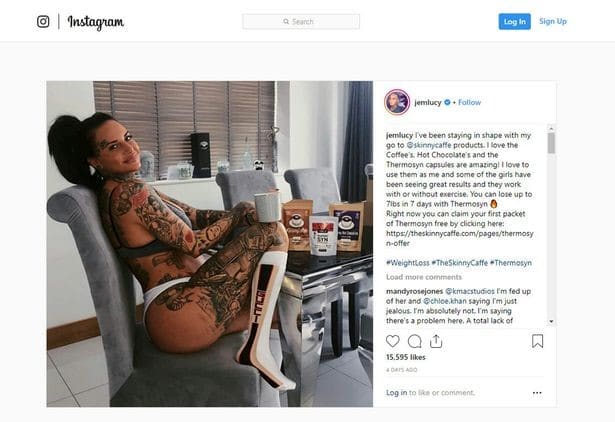 The text of the post read "I've been staying in shape with my go to @skinnycaffe products. I love the Coffee's, Hot Chocolate's and the Thermosyn capsules are amazing! I love to use them as me and some of the girls have been seeing great results and they work with or without exercise. You can lose up to 7lbs in 7 days with Thermosyn. Right now you can claim your first packet of Thermosyn free by clicking here", and it linked to the theskinnycaffe.com website.
The ASA received 25 complaints about the post. The issues raised were:
Is the post obviously identifiable as an advert?
Does it irresponsibly encourage pregnant women to take weight loss products?
Does it imply that a food can produce a particular rate of weight loss?
Is the post obviously identifiable as an advert?
CAP Code rule 2.1 requires that adverts are obviously identifiable as such. But was the post an ad?
Skinny Caffe explained to the ASA that the content was posted by Ms. Lucy as a favour to a friend at the company, with the intention of creating brand awareness ahead of a formal ad campaign featuring Ms. Lucy later this year. Although the ASA acknowledged that there was a personal relationship between Skinny Caffe and Jemma, they decided there was also a commercial relationship given that Jemma was promoting products she'd received for free, with a view to participating in a larger ad campaign in the future.  The post was therefore an ad.
Use of "#skinnycaffe" and the inclusion of a promotional code did not make it sufficiently obvious that Jemma's post arose from a commercial relationship and that it was an advert, meaning it fell short of the CAP Code's requirements.
Jemma is not the first social media influencer to be caught out for failing to include "#ad" in Instagram posts. Reality TV stars such as Louise Thomson from Made in Chelsea and Olivia Buckland from Love Island have also been required to take down posts which don't make clear to their followers that they have been paid for by a brand.
Is the post irresponsible?
It is not clear in the post that Jemma is pregnant and the post does not specifically target pregnant women. This was pointed out to the ASA by Skinny Caffe, who also noted that their website made it clear that the weight loss capsules being promoted were not suitable for use during pregnancy.
However, an unfortunate consequence of Jemma's prominence in social media and public visibility was that her pregnancy had received widespread coverage in the media, and many of the comments in her posts referred to it.
This, coupled with language in the post suggesting that Jemma had used the products recently, led the ASA to conclude that the post encouraged pregnant women to use the capsules intended for weight loss.
With reference to guidance published by the National Institute for Health and Care Excellence (NICE) and the NHS, the ASA ruled that attempting to lose weight during pregnancy was not recommended by health experts. This rendered the ad irresponsible.
Does the post imply that a food can produce a particular rate of weight loss?
Health claims referring to a particular rate or amount of weight loss are specifically prohibited in CAP Code rule 15.6.6, so the inclusion of the claim "You can lose up to 7lbs in 7 days with Thermosyn" featured in Ms. Lucy's post was a clear breach.
And finally…
The ever-increasing use of social media influencers by brands has made it more and more difficult for consumers to distinguish between advertisements and genuine reviews of products. The problem is exacerbated when influencers promote health products and medicines, sometimes making claims which are not recommended by doctors or which lack evidential backing.
In recognition of this and in an attempt to inform brands and influencers about their responsibilities as advertisers, the ASA have recently published the following guidelines:
https://www.bbc.co.uk/news/technology-49163138