On Friday 21 October, the MHRA circulated a letter announcing a 12 month delay to the introduction of a new legislative framework for medical devices and in vitro diagnostic medical devices (together Devices) in the UK.
We have been awaiting a new legislative framework on Devices for the UK for some time now. Following a Government consultation earlier this year, which indicated that the new framework would enter into force on 1 July 2023, we at Bristows had started referring to this new framework as UK MDR 2023, and had been hoping to see draft legislation for some months. The MHRA's letter has put paid to that expectation.
We should note that this letter has no impact on the continuing application of EU MDR[1] and IVDR[2] in Northern Ireland.
What does the Letter Mean? – Date of application of new UK MDR
We read the MHRA's letter as meaning that while the (as yet unseen) UK MDR 2023 was originally intended to enter into force on 1 July 2023, it will now do so on 1 July 2024.
The letter also promises draft legislation in Spring 2023 which will address transitional periods for CE Marked and UKCA Marked "legacy" Devices and also post-market surveillance requirements.
It seems that we are going to have to start referring to the new framework on Devices in the UK as 'UK MDR 2024'.
What doesn't the Letter mean? – Deadlines to obtain replacement UKCA Marks
We do not read the MHRA's letter as requiring every CE Marked Device that requires a Notified Body Certificate to obtain a replacement UKCA Mark by 30 June 2023 or 30 June 2024.
The Government consultation on the new legislative framework includes very generous transitional periods to allow CE Marked Devices to continue to be placed on the market in Great Britain. Until Friday, we had interpreted this as meaning that we had deadlines in 2026 and 2028. However, it now appears as though the deadlines will move to 2027 and 2029.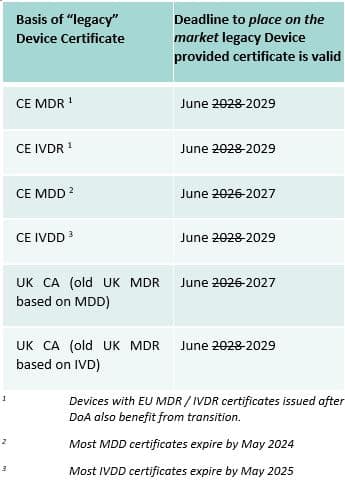 As alluded to in notes 2 and 3, there are some practical issues with this as the legacy certificates should expire in 2024 (for MDR Devices) and 2025 (for IVDR Devices) at the latest.
Please note that the Government consultation anticipated the possibility of extending the original transitional deadlines to place legacy Devices on the market, so these dates could slip further.
Unhelpfully, the Government guidance on medical devices is inconsistent with the transitional periods set out in the consultation, and has not even been updated to reflect the MHRA's announcement that the UK MDR 2024 will not enter into force until 1 July 2024. It still states that: CE marking will continue to be recognised in Great Britain until 30 June 2023. This should be corrected, as it continues to create confusion.
————————
[1] Regulation (EU) 2017/745 on medical devices
[2] Regulation (EU) 2017/746 on in vitro diagnostic medical devices